Scitra and ACMA: a winning partnership built on exceptional customer care
In today's competitive business environment, a strong partnership can make all the difference. The longstanding alliance between ACMA and Scitra, two giants in their respective industries, is a testament to this fact. ACMA's client-first vision and unwavering commitment to excellence have played a key role in helping Scitra excel in the Home and Personal Care sector. In this article, we will take a closer look at the strategic cooperation between ACMA and Scitra, showcasing how their shared values and a customer-centric approach have paved the way for a long and prosperous relationship.
Scitra: a global leader in the home and personal care landscape
Established in the UAE in 1976, Scitra started manufacturing detergent powder and industrial liquid products. In 1992, the company expanded to produce bar soaps, antiseptic, Home & Personal Care liquids, and later added aerosols and insecticides to its portfolio. In 2016, Scitra further extended its manufacturing footprint to Egypt, specializing in Home & Personal Care liquids.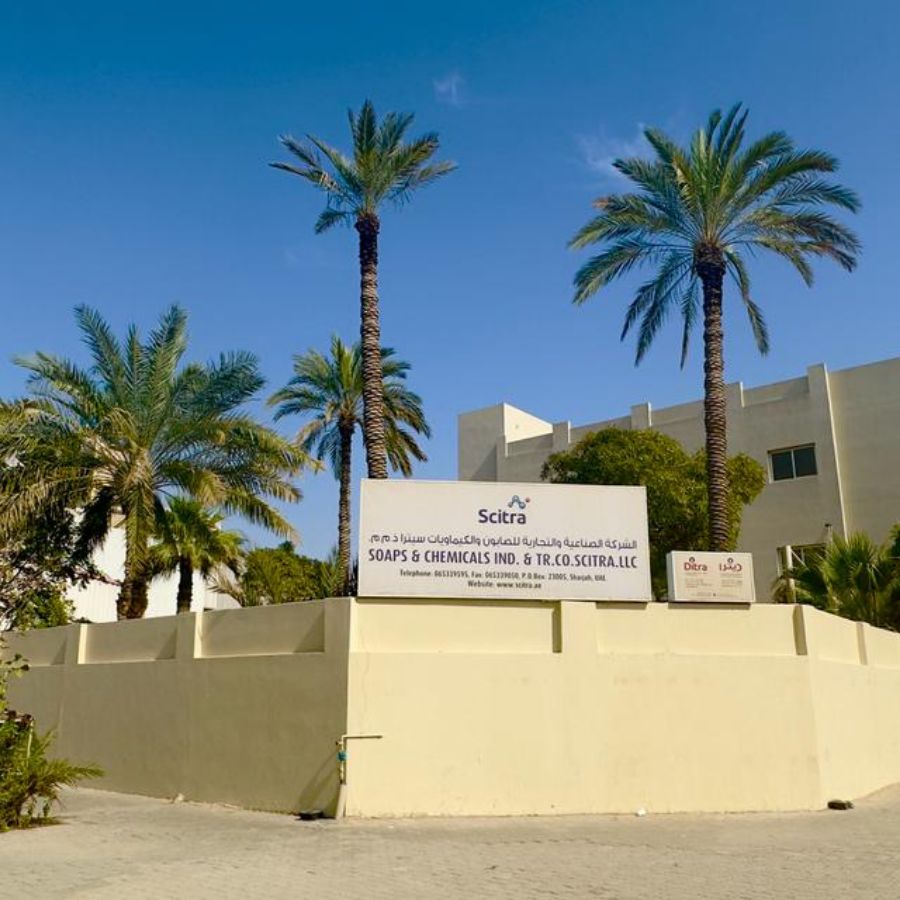 Today, Scitra - part of the Albatha Group - is the GCC's market-leading contract manufacturer of Home and Personal Care products, providing a unique range of solutions to major multinational corporations and local market leaders. The company collaborates with its customers and other partners throughout the value chain to create high-quality solutions that meet customers' needs in close proximity to their markets. "We constantly strive," says Scitra's CEO Carlo Sinigaglia, "to add new products, SKUs and variants for new and existing customers within our extensive technologies in GCC countries".

When evaluating the purchase of a new soap packaging machine, Scitra's three core pillars are efficiency (value-for-money at buying price and maximum output/input cost at operating), compliance to global standards of safety & quality and flexibility to adapt to changing customer needs. The company's commitment to innovation and customer satisfaction has enabled Scitra to establish a strong foothold in the industry, earning a reputation for excellence and reliability.
The firm has received numerous certifications, including the Emirates Quality Mark (Al Alama) in 2018, which was awarded by the Emirates Authority for Standardization and Metrology (ESMA) for their exceptional adherence to international quality standards[1]. Scitra has modern machines and facilities that produce high-quality products for both private and brand customers. It operates in three separate locations manufacturing  different products such as detergent powders, bar soap, home care liquid products, aerosol and personal care liquids — including antiseptic liquids.

Fully committed to international best practices, Scitra has been ISO 9001:2000 certified for over 15 years. All their plants are certified or undergoing certification for Good Manufacturing Practice (GMP) – ISO 22716. The company also has a Saudi Arabian Standards Organization (SASO) certification.
How ACMA's customer care has supported Scitra in achieving its business goals
ACMA and Scitra have enjoyed a successful partnership for over 35 years. During this time, ACMA has provided Scitra with about a dozen machines (wrapping and cartoning technologies) for soap bars and powder detergent production, with always effective customer care support.

Recently, ACMA supplied Scitra with two new machines, the SW550 and SC350, as well as electrical upgrade kits for two more ACMA soap wrapping machines. Scitra praises the precision and accuracy of ACMA's technologies, highlighting how, especially at high speeds, "the efficiencies are 95%+ with optimal maintenance costs. We believe that ACMA wrappers stand out from the competition by far" says a Scitra's CEO.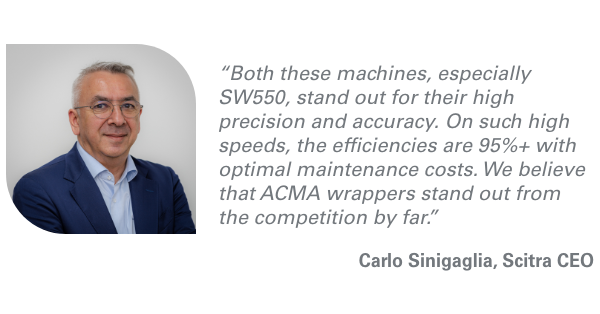 The installation phase of a packaging machine at a customer's facility is a critical juncture that demands meticulous attention to detail and exceptional problem-solving skills to address any technical issues that may arise. It is of utmost importance to utilize one's experience to quickly pinpoint the ideal solution and work collaboratively to guarantee the flawless integration of the machines within the production line.

After successfully completing the Site Acceptance Test (SAT) for the SW 550 Z at Scitra's production line, ACMA was further engaged to install the SC 350 as part of a new low-speed cartoner line. During this second endeavor, the customer faced a multitude of challenges throughout the installation process, and ACMA's team promptly provided their expertise both on-site and remotely to overcome these obstacles.

The initial hurdle encountered by ACMA's technicians involved managing the primary packaging of the soap bar—a flowpack that exhibited minor defects and a non-compliant blueprint shape. Drawing upon their vast experience, ACMA's technicians skillfully modified the SC 350 to precisely insert the flowpack into the carton box, effectively resolving the issue on-site.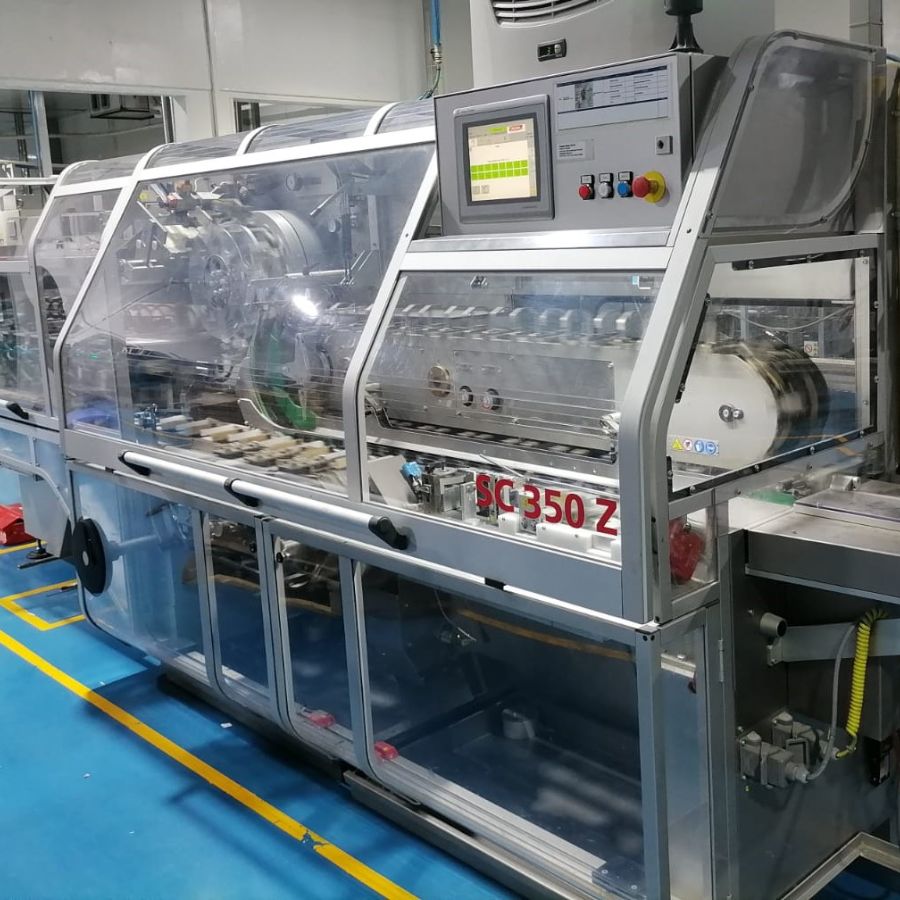 In addition, Scitra faced procurement challenges in sourcing compliant blueprint flat blank boxes. To assist the customer, ACMA intervened by sharing technical knowledge with the packaging supplier, which significantly improved the production quality of the boxes. ACMA also offered support during the testing and transition phases, helping to resolve the primary issue of maintaining the box's square shape throughout the forming and gluing stages. This ensured that the locking flap could be properly inserted, further solidifying ACMA's commitment to excellence and effective collaboration in overcoming challenges during the installation process.

Through the entire installation process, a successful key factor was ACMA's constant presence, continuous technical support and on-line daily meetings with Scitra's team, ensuring a smooth machine start-up. According to Scitra CEO, ACMA has "one of the best after-sales support in the industry" and is at the forefront of innovation, utilizing Industry 4.0 technologies like machine-to-machine learning, remote access and automation in their latest machine versions.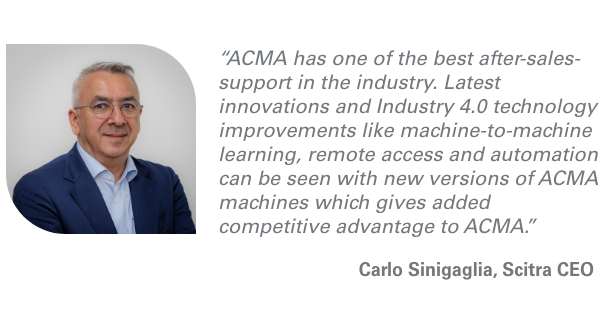 By offering better value-for-money than competitors and exceeding their level of technology, ACMA, according to Scitra, has been able to maintain its position as the best-in-class, industry-leading technology with high durability and efficiency.
"I would definitely rank ACMA at the top of the automatic packaging machines for the consumer goods segment. Based on my network within the industry, I can vouch for this as a consensus in the FMCG manufacturing. ACMA is not just our supplier, it's our partner. The partnership between Scitra and ACMA has lasted for 35+ years now and we look forward to ACMA as one of our most reliable partners in future" concludes Carlo Sinigaglia.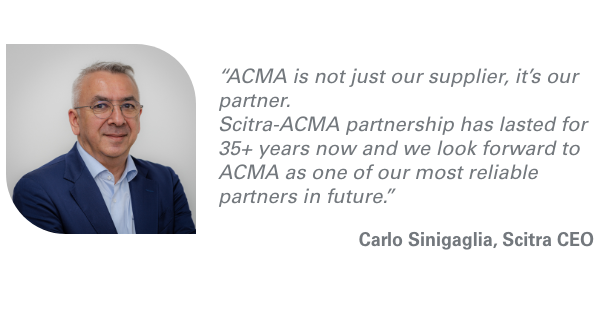 If you want to explore the opportunities of partnering with ACMA, get in touch!