Specialised technologies to meet the different needs of the liquid filling industry: the new LRF platforms
Drawing on its extensive experience, ACMA is now looking to develop its liquid filling technology with a host of new solutions, bringing to market a renewed portfolio of platforms dedicated explicitly to Personal Care, Home Care and Oils (both edible and mineral).
A broad industry covering widely differing sectors
Although different, the Personal and Home Care sectors have some things in common: they are both doing very well and are supported by a comprehensive and diverse range of technologies. It is estimated that the market value of packaging for the Personal Care sector will exceed $30 billion in 2023, with a 5.4% common growth rate, and is set to increase to nearly $40 billion in 2028. The Home Care sector will do even better: it is expected to generate a turnover of nearly 33 billion in 2023 and, assuming this growth rate continues, its turnover will exceed 43 billion within the next five years. But there are similarities that go beyond numbers: both of these sectors are globally competitive and, in particular, are growing rapidly in Southeast Asia. The liquids segment is also considered the predominant segment in both sectors and products such as soaps, creams, shampoos and detergents make up the bulk of the demand for technology. The oil sector, which includes both mineral and plant-based oils that are used in various fields ranging from the food industry to mechanical engineering, is also growing. Each of these products, whatever their intended use and sector, has different characteristics concerning density, foaminess, chemical composition, and the shape of containers, and therefore requires custom-developed solutions to ensure that they are properly bottled.
 
The importance of finding the right partner
When it comes to automated machinery, only a few companies have the engineering skills that ACMA has: these skills date back to the early days of the packaging industry and have allowed the company to install more than 700 machines worldwide, especially in the liquid filling industry. ACMA consistently offers its customers innovative, cost-effective and customised solutions to meet industrial requirements, with a particular focus on the constantly growing demand for automation and highly reliable machinery, as well as on precision and minimising product waste.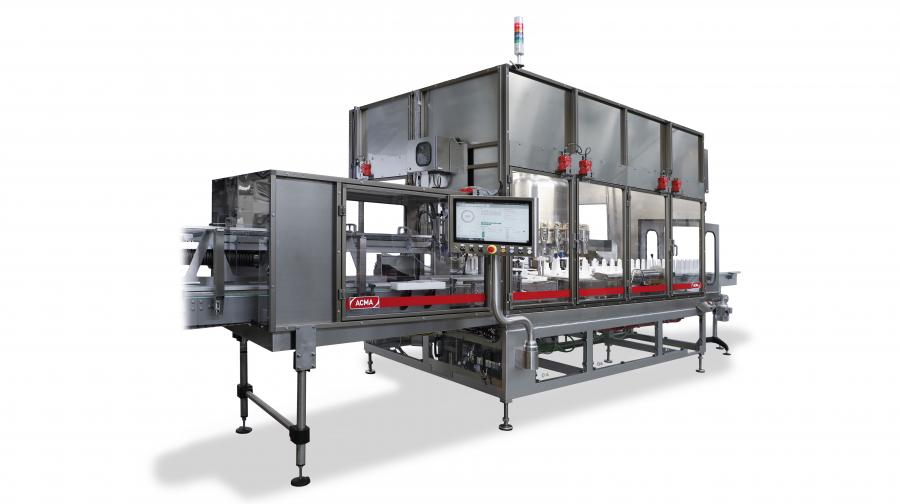 In this way, ACMA aligns its range of liquid filling machines to target specific markets: Personal Care, Home Care and Oils (edible and mineral).
In fact, all these sectors have to deal with issues when it comes to product management and production schedule management, machine cleaning and maintenance costs. For instance, products for the Home Care sector are often corrosive, therefore specific treatments need to be applied to the various parts of a machine. But there is also a demand for high speeds and for units that can operate continuously over multiple shifts. In contrast, with products for the Personal Care sector, frequent format changes are required as there are multiple combinations of caps and bottles, with minimal machine downtime, which means that the format needs to be changed very quickly and efficiently. In addition, products for the Personal Care sector are mostly viscous, so cleaning the tank, for example, can be quite a tricky task. The technology platforms will be the following: 'LRF – PC' for Personal Care, 'LRF – HC' for Home Care, and 'LRF – OI' for oils.
Different technologies, same benefits
While there are specific problems in these three sectors and, as a result, the offering varies according to customer needs, all ACMA solutions offer the same benefits.
The most important benefit is the flexibility offered by its machines, which is ACMA's hallmark. This is because the platforms allow bottles of different types and sizes to be filled, with various capping systems, while making it possible to quickly change format without having to use any tools, with a tool-less and plug-and-play approach.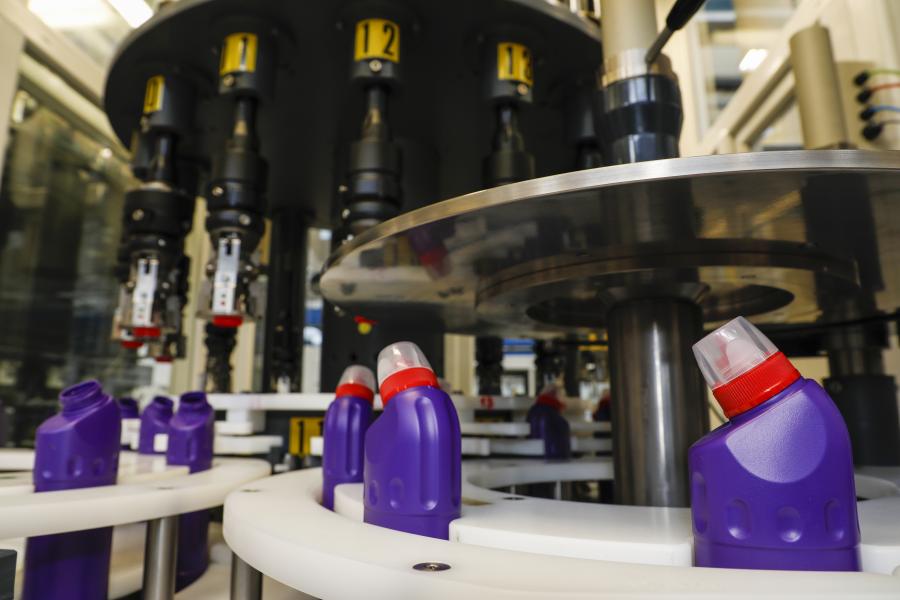 Another two essential features are filling precision and accuracy, which can be achieved by using the net weight system to check each bottle individually. This is a necessary feature to ensure compliance with standards for filling operations and is managed with a degree of accuracy that is unmatched in the market. Additionally, ACMA machines follow a smart filling approach: waste is minimised by reducing the amount of product in the tank using a patented control system – the Virtual Level System (VLS) – and by increasing the speed at which the product is dosed by using a system that constantly measures characteristics such as viscosity and temperature. Maintenance operations are also factored in during the design phase: all our solutions are engineered to maximise efficiency while reducing maintenance costs.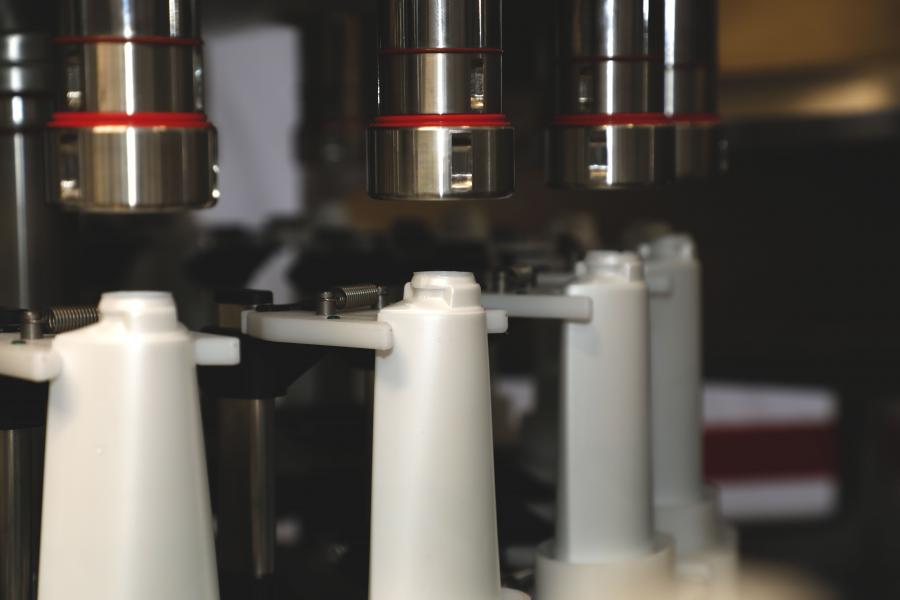 The smart technology used to control such complex systems is equally important and should be both advanced and easy to use. This principle guided the Coesia Group in developing its digital tools: OptiMate and PerforMate. The first tool is an HMI for the intuitive management of machines, which serves as a single interface for accessing detailed production data and several digital services, such as remote assistance for diagnostics and troubleshooting (Advanced Remote Assistance). PerforMate is an integrated platform that makes it possible to monitor the machine and production lines in real-time using a user-friendly interface that can be customised according to each customer's needs and that can be accessed anytime and from anywhere. PerforMate includes functions such as real-time production monitoring and bottleneck analysis, which makes it a powerful tool for managing the entire production line while ensuring data security.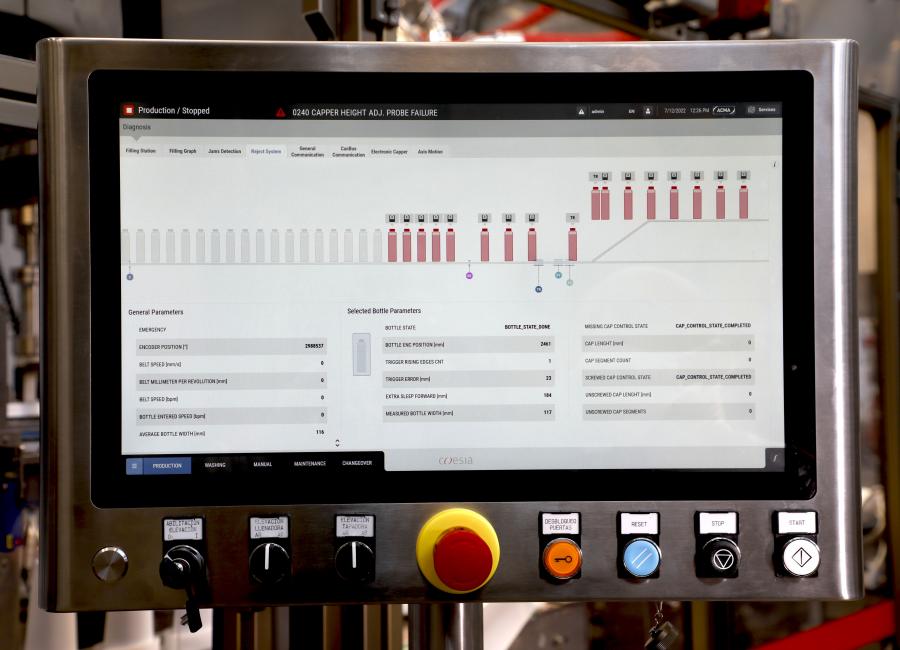 Being green requires action, not just talk
The fast-moving consumer goods sector is increasingly focusing on developing green solutions, and this is largely being driven by the demands of end consumers: the liquid filling industry is no different. In particular, there is the need to manage more sustainable bottles and caps made of thinner materials, which are naturally more fragile and more likely to deform, especially when closing the bottles. As part of the activities of the Sustainability Lab, ACMA has begun actively working with several top manufacturers of bottles with a low environmental impact, such as bottles made from recycled plastic or compostable material, so that it can develop and market solutions that are ready for use, as well as finding effective solutions for its customers.
If you would like to learn more about our liquid filling platforms, please book an appointment with our experts!