Introducing the ACMA Sustainability Lab
Packaging expert ACMA has developed an innovative way to test cutting-edge materials on its automatic packaging machines. Its latest initiative, the Sustainability Lab, is a consultancy service that has been helping leading companies in the transition from plastic to sustainable packaging.
Transitioning to a Circular Economy
In July 2019, the EU introduced new legislation[1] to reduce the impact of certain products on the environment and to promote the transition to a circular economy. Although it currently encourages the use of sustainable and reusable packaging, the EU has and will be introducing binding regulations for manufacturers[2]. This move reflects a general positive trend towards sustainability around the globe. In fact, ACMA has always been committed to the concept of sustainability and has been looking into green alternatives with a strong expertise in cardboard packaging for some time now. Aware that brands have a lot to gain from going green[3] and that consumers are willing to pay more for products in eco-friendly packaging[4], ACMA decided to launch a brand-new consultancy service in early 2021, which allows customers to test a range of sustainable wrapping materials on its machines.
The New Frontier of Sustainable Packaging
ACMA had been looking for a way to test cutting-edge materials on its automatic packaging machines to sustain the market in the transition towards new sustainable materials. 
To do so, ACMA launched the Sustainability Lab in early 2021 to gain a comprehensive understanding of new sustainable materials by analyzing their structural limits. The new consultancy service was launched so that customers and packaging material producers could gauge how the new packaging materials perform on ACMA's existing flowpack machines, given that most existing machines are used to handling plastics-based materials. The service was later extended to fold wrapping technologies launching the Material Gate, a twisting unit that runs semi-automated tests on new materials, letting ACMA engineers to upgrade the machines, when necessary. Doing so allows ACMA to find new innovative and effective solutions while also maintaining its high standards of packaging and machine performance.
Thanks to the Sustainability Lab: 
ACMA customers can understand how to switch to greener packaging formats
Materials manufacturers can test the machinability of new products before they are ready for the market
The goal is therefore to help packaging material producers develop new machinable solutions and guarantee customers the best possible machine performance, all while preserving wrapping quality and production speed – two standout features of ACMA's machines.
The Sustainability Lab forms part of ACMA's threefold sustainability strategy, along with Machine Life Cycle Assessment (LCA) and green packaging formats (such as Ecoshell, Tamper evident carton box, Zip top, Flip top and Slide pop packages). This new service assists customers who are either looking to use new materials for their packaging or wanting to upgrade machines to facilitate the introduction of new sustainable materials. The process also allows ACMA to cooperate with packaging material producers who want to create eco-friendly films that are compatible with ACMA's flowpack and fold wrapping machines.
The ACMA Sustainability Lab  
Sustainability Lab testing activities comprise different steps. Before commencing the process, the customer sends a material sample to ACMA so that the Packaging Team can evaluate it to confirm whether it is suitable for testing. If the material is compliant, ACMA begins with the Sustainability Lab process.     
CEC TESTS: During this first phase, the material undergoes a material study at the Coesia Engineering Center (CEC), where R&D technicians  compare the material either with the best in class for its specific application or with a second material sample provided by the customer. At the end of the process, a delta report summarizes the findings.
MACHINE TESTS: If the tested material is viable, ACMA's product engineers perform a material performance test in house. This process can be performed for flowpack technology, twist wrapping using the Material Gate and others according to ACMA portfolio. The Material Gate is a new twisting platform that has a built-in servomotor system, which runs simulations using a software to create the twisting motion. The unit allows ACMA engineers to quickly understand and predict how new materials will perform on a standard machines (of which the twisting unit is the key part). At the end of the process, a final report with material machinability considerations on wrapping quality across the different tests executed is delivered.
MACHINE UPGRADES (optional): If necessary, ACMA's product engineers design the machine upgrade kits, to optimize the machine performance with the new materials.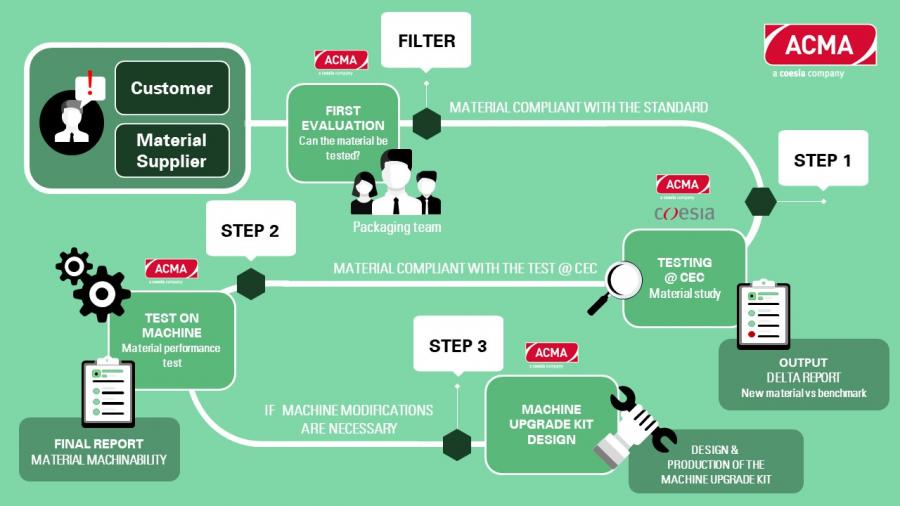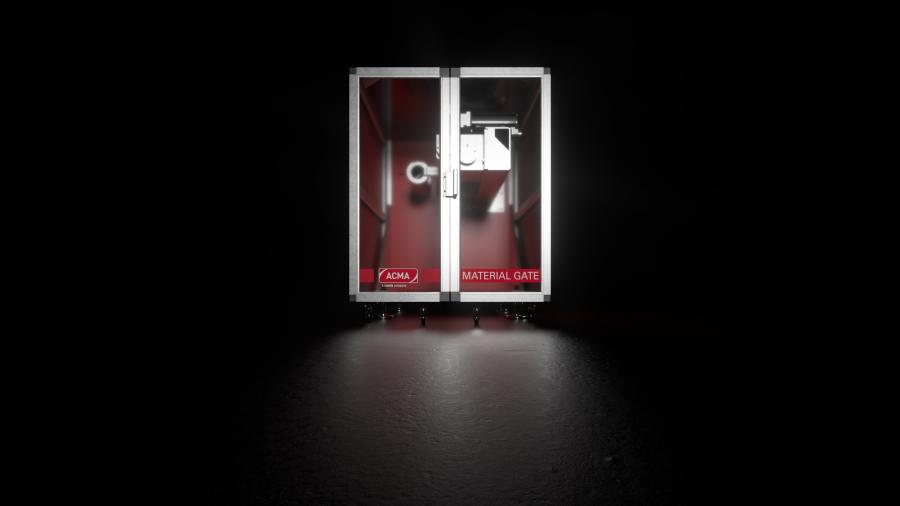 Several ACMA customers and packaging material producers are already using the exclusive Material Gate machine, which will be officially presented at IPACK-IMA in May 2022.
Why ACMA? The Benefits for Customers and Material Suppliers
According to Roberto Lattarulo, Marketing Manager at ACMA, "The Sustainability Lab is attracting the attention of leading material suppliers and FMCG companies because it allows the environmental impact of products to keep pace with a world in search of increasingly responsible solutions". In addition, it represents "an important opportunity to change the future of sustainable production, contributing to the development of new materials and guaranteeing machine productivity and wrapping quality at the same time.".
But why should packaging material producers and customers choose ACMA's Sustainability Lab services? The company has nearly 100 years of experience in the packaging industry, and when it comes to testing green packaging, several leading material manufacturers and ACMA customers have turned to the company to assist in the development of new materials and to upgrade existing machinery. Today, ACMA is a reliable business partner that is actively helping the industry make the critical transition to new environmentally-friendly materials, driven by new packaging sustainability developments.
 
Get in touch for more information on flowpack or fold wrapping tests or to request a quote from the ACMA Sustainability Lab.