How ACMA's box-filling solution reaches product-market fit
Box-filling packaging is all the rage. Characterised by an ultra-compact, sustainable design, this new, 100% cardboard product type either features a standard form factor or comes in more innovative shapes. Eco-friendliness, portability and ease of use are the three pillars of what is quickly turning into an icon of green packaging all over the world. Indeed, as we look at the confectionery and parapharmaceutical sectors, it becomes apparent why box-filling solutions are coming to the fore.
The primary reason is sustainability. Also due to an increase in environmental responsibility among customers[1], the demand for products that look and feel "natural" is through the roof. According to a report by global consulting and research firm Kline & Company in 2018, an increasing number of people tend to favour products that they "perceive to be natural".[2] 
This phenomenon concerns all age categories, but especially Millennials and Gen-Zers. As a matter of fact, 73 percent of Millennials are willing to pay extra for sustainable offering versus 66 percent of global consumers[3]. Gen-Zers' support for green-friendly products is no smaller. As confirmed by First Insight's 2019 survey "The State of Consumer Spending: Gen Z Shoppers Demand Sustainable Retail[4]," a 10 percent price increase for environmentally responsible products is fine for 54 percent of Gen-Zers while only 50 percent of Millennials would take the bargain.
Unsurprisingly, the rising appeal of natural offerings has a huge impact on packaging. This day and age, sustainability claims in products' labels such as "all natural," "fair trade" and "organic" are gaining momentum. Companies that manufacture and sell organic fruits, vegetables, dairy products and ready-to-eat meals are registering a burgeoning request for natural products. In addition, rising health awareness and a more positive disposition towards premium, nutritious items feed the greater and greater insistence on naturalness[5]. So much so that the demand for no-additive, organic food is growing faster than the domestic supply.[6]  US sales of organic food are up by 20% year over year. As an actual fact, according to the USDA, the United States spends over $1 billion a year to import organic food - mostly from Europe.[7]  
Because of all this, aseptic carton packaging is picking up steam, and manufacturers are taking notice. As consumers increasingly move towards natural flavours,[8]  aseptic carton, being space-saving, energy-efficient and recyclable, is no doubt a winner in the packaging material game. 
Experts believe that innovation, cost-effectiveness and an unmatched capability to reduce the environmental impact play an important role in the meteoric rise of aseptic carton packaging[9]. 
Moreover, the customer base is changing. On-the-go consumption is on the rise - a trend that shows no sign of slowing down[10]. Out-of-the-home breakfasts and snacks between lunch and dinner have now become a staple. Mintel's Snacking Motivations and Attitudes 2019 report found that 95% of American adults snack at least once a day and 70% more than twice a day.[11] This is no surprise. To a certain extent, on-the-go consumption is a byproduct of urbanization, and with more than half of the world living in towns and cities (66% by 2050), the demand for convenient, time-saving snacks is escalating. 
Furthermore, eating habits are changing, and with them, snacks as well. Once considered synonymous with indulgence and unwellness, snacks are becoming plant-forward, convenient, healthy products, incorporating other functions such as high protein.[12]  As a result, more and more consumers are looking for packaging solutions that fit their individual habits and active lifestyle. This mobile way of life is, once again, more common among Millennials and Gen Zers, who, incidentally, are those that judge corporate responsibility more positively[13]. Indeed, brands are switching to single-portion, easy-open and reclosable models that make life easier for the customer. 
For this reason, design is paramount. Being space-saving, tight handheld box-filling solutions are preferable to bag-size items, resulting in less environmental waste. In fact, the demand for novelty in packaging is also rising. With companies always looking for new ways to engage their customers, an innovative shape represents a creative strategy to add value to the product, increasing brand recognition and eye-impact on the shelf. According to the Association for Packaging and Processing Technologies[14], 80% of manufacturers have had requests for new shape innovations in their flexible packaging offerings. For many products, innovative shapes are widely recognized as a must-have.
ACMA's box-filling solution, being pocket-size, sustainable and easy to use, is the perfect answer to today's trends. It is 100% cardboard and incorporates a straightforward dosage system. It comes in three models: Flip Top, Zip Top, and Ecoshell.
Flip Top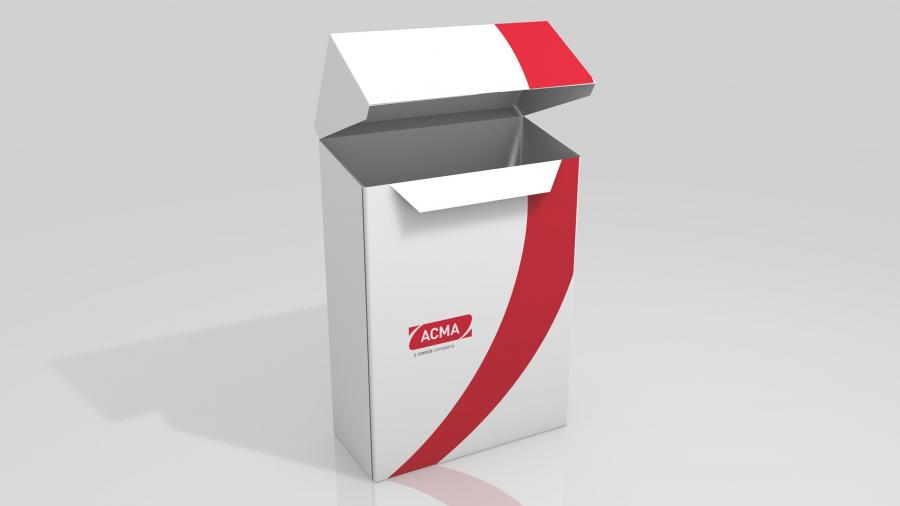 Flip Top is the most streamlined box-filling solution in ACMA's product line. It features a user-friendly front opening. If requested, it can integrate cellophane for protection as well as paper tray. 
Due to its simplicity and traditional form factor, Flip Top is ideal for products that want to optimize for portability over design novelty.
Zip Top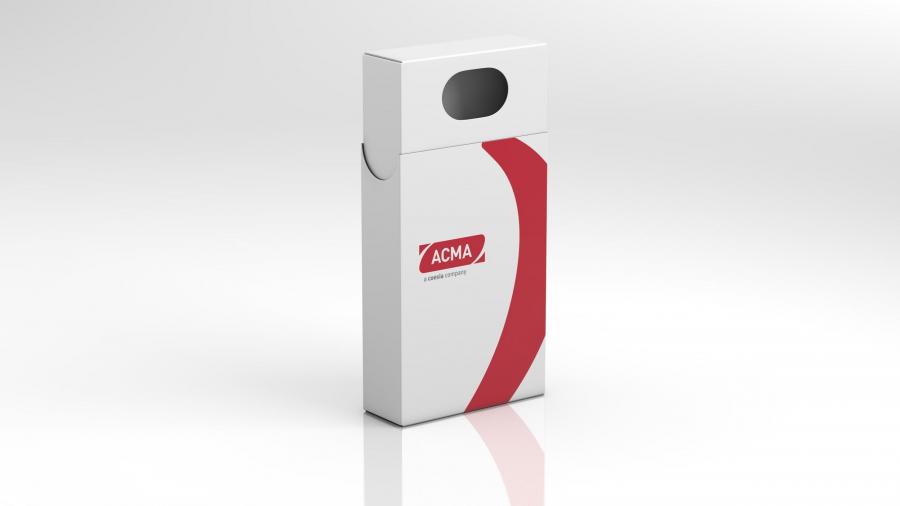 Zip Top is the most versatile solution in ACMA's box-filling product line. It features a frontal and lateral dosage system. As an optional, it comes with cellophane for protection as well as paper tray. 
Because of its distinctive dosage system on two sides, Zip Top is ideal for products that favour ease of use.
Ecoshell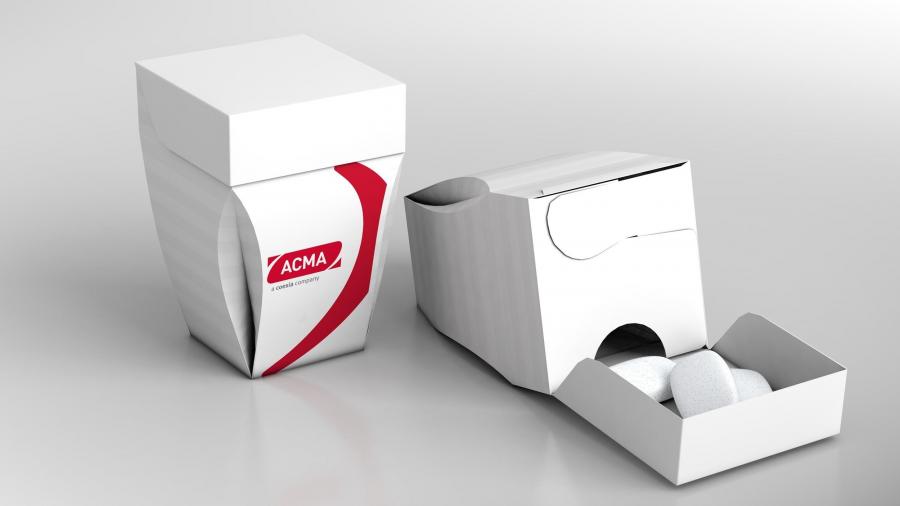 Ecoshell is the most innovative box-filling solution in ACMA's product line. Patented in 2020, it was among the finalists of the 2020 Packaging Oscar. It features a single dosage system on top. Its uniqueness lies in its peculiar shape that makes the product highly recognizable on the shelf.
Another critical element is scalability. As a matter of fact, Ecoshell ensures the highest degree of flexibility production-wise. So much so that, should the customer not find its peculiar silhouette appropriate for its product's vision, he can always change its shape and size at a later stage. This is a unique advantage for the customer, who can readily adapt its product to the evolving needs of the market.
Due to its novelty in design, Ecoshell is ideal for products that want to increase their brand awareness, maximising eye-impact.
In conclusion, the dominant trends in the confectionery and parapharmaceutical markets, as of today, are ease of use, sustainability and portability. Not only do customers favour natural products, they are also on the lookout for packaging options that incorporate a natural touch in their design. Because of this, ACMA's box-filling product line reaches product-market fit, as it is pocket-sized, user-friendly and, last but not least, it is made from 100% sustainable cardboard.
If you are looking for sustainable and portable packaging for your business, get in touch. We will be happy to help you meet the customer expectations with a solution that adds value to your product.