The rediscovery of soap bars: eco-friendly, valuable and organic
Contents of the article
Over the past few years, consumers have rediscovered soap in its original form: the solid soap bar. The numbers confirm this trend: according to estimations, global growth is expected to reach 1,4% CAGR over the next five years[1] and will reach 3040 million US$ in 2024, from 2800 million US$ in 2019.
After the liquid soap boom in the 1990s, solid soaps have regained market share thanks to soap bars' features and also because some consumer groups have elected to go back to basics.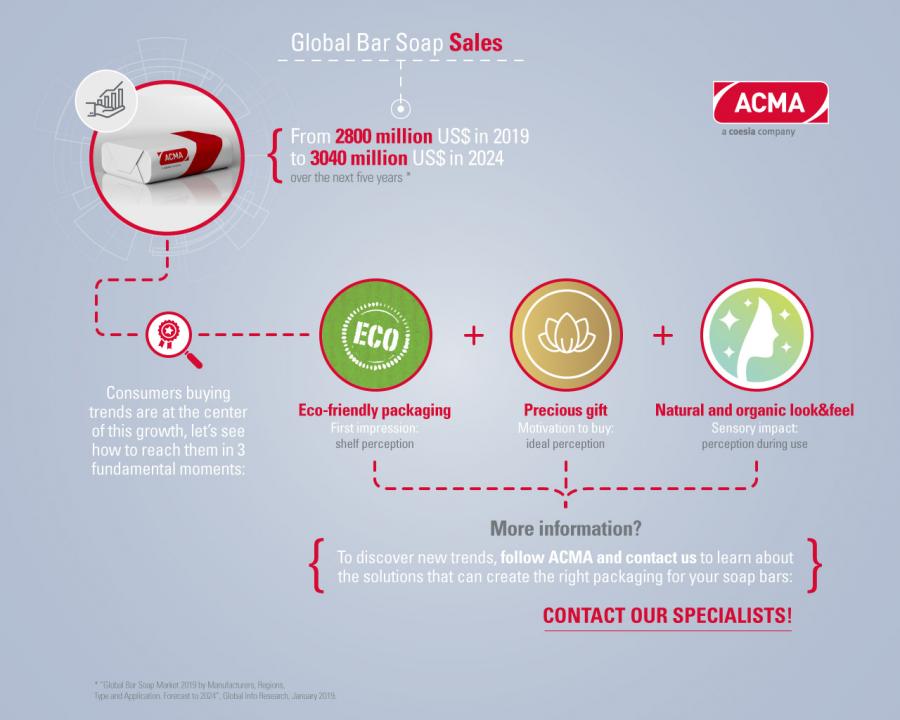 Soap bars ideal for gifts
Soap bars have started to be seen as prestige items, with premium ingredients and peculiar perfumes and wrapping, especially thanks to luxury hotels: these have indeed been among the first to rediscover soap bars, followed by restaurants, fitness centres and boutiques. These sectors have conferred greater value to the product that is now increasingly used as gift.
In this picture, packaging plays a key role, as wrapping offers the opportunity to enhance essence, characteristics and quality.
The same packaging is in many cases original, with a well-finished design and made with carefully chosen materials, that can bolster the value of the product.
Solid soap marries the principles of environmental sustainability

Comparing the environment footprint of personal-hygiene products, soap bars are estimated to use 25% less carbon footprint than liquid soap format[2].
In the UK [3], around half of targeted consumers has indicated to choose soap bars in order to avoid packaging waste that is harmful to the environment – preferring in some cases to spend more for eco-friendly options.
An organic product for your personal care: soap packaging confirms it
Nielsen research[4] has also showed that two thirds of consumers pay attention to the indication of the organic and natural ingredients contained in toiletries.
Data on the organic soap segment indicates global growth that is about to exceed 206 million dollars by the end of 2022[5].
Traditional soap bars mainly consist of soda and vegetable oils, easily degradable elements with a low environmental impact, and this has, over time, consolidated the idea that soap bars have natural and organic value.
Continuing on the topic of naturalness, many manufacturers offer soap bars with glycerine, special emollients and above all with a pH very close to that of skin (5.5).
Soap packaging that reinforces the organic and natural look & feel is among the most effective tools to underline such messages.
Packaging innovation at the service of soap bar manufacturers
Thanks to its high-level technology and eighty years of experience in soap machinery, ACMA offers high-end packaging forms and materials that can meet the needs of companies operating in the personal care sector.
ACMA supports its customers both when designing the most suitable packaging for their products, and for any changes to the forms and materials of the packaging based on the innovation applied to the sector. For this reason, it is a reliable partner for both established companies and start-ups.
ACMA machines for soap bars can, among other things, handle eco-friendly materials, guaranteeing always-high quality standards.