ACMA webshop: B2C experience at the service of B2B
Contents of the article
Technology is progressively transforming the way businesses are organised by automating and simplifying both production and management processes.
In particular, the digital revolution which has come to the fore in recent years has turned the spotlight on two fundamental concepts: User Experience (UX) Design and User Interface (UI) Design.
UX refers to user perceptions and reactions when interacting with a specific web page or digital application. UX design aims to increase user satisfaction by improving the usability of a web page, its ease of use, intuitiveness and interactivity.
UI design, on the other hand, is the visual core of the UX. While the UX is a set of actions focused on the optimisation of a product or service, UI design is all about presenting the product/service itself.  Working on the UI means developing the graphical and interactive portion of a web product, with the ultimate goal of guiding users around the page and showing them clearly and precisely where they can find what they are looking for through the interface.
The combined task of UX and UI design is to marry user expectations with the reality of the applications, ensuring their satisfaction when interacting with the web systems. UX and UI have an important function within each IT context: their relevance increases when website navigation needs to optimise online shopping experiences.
UX and UI in multichannel contexts: from B2C to B2B
Over the last few years, trends in digital development have seen a progressive shift in emphasis of UX and UI design from the web pages, which they were initially created for, to the large number of digital devices that are now available: PCs, smartphones, tablets, netbooks, e-readers, smart TVs etc. all of which have specific characteristics.
In order to provide a positive experience, users' actions and responses when interacting with such digital media must be analysed and continuously optimised so that they meet their requirements for speed and accuracy.
While it is true that as private individuals, we are all consumers – and are already familiar with these seamless experience mechanisms and expectations – UX and UI must also be taken into account when developing digital applications for the B2B sector in order to ensure the same level of effectiveness and close customer relationships.
The technologically advanced nature of industry requires the design of web environments which are free from any unnecessary "obstacles" to navigation. The aim is to minimise the number of steps customers have to take in order to achieve their goals and allow them to operate easily, anywhere and at any time, seven days a week.
E-commerce for spare parts
This is particularly true of spare parts for the manufacturing industry.
In the past, spare parts were purchased by calling customer service departments during opening hours, or else by consulting catalogues and then sending orders by fax or email. This led to a high rate of errors, especially when copying part numbers or providing other information on customers, machinery or delivery locations and times.
These procedures are generally not compatible with the need to have spare parts available quickly in order to avoid machine downtime and consequential losses due to reduced output.
This is why the most technologically advanced B2B companies have implemented digital webshops that allow their customers to overcome numerous difficulties and to optimise efficiency.
Having a business-to-business e-commerce store, like B2C stores, means that you can operate 24/7.
The webshop can also provide customers with a range of useful information, such as parts availability and up-to-date price lists at all times, as well as the opportunity to track deliveries using shipping codes and real-time updates.
ACMA webshop: spare parts just a click away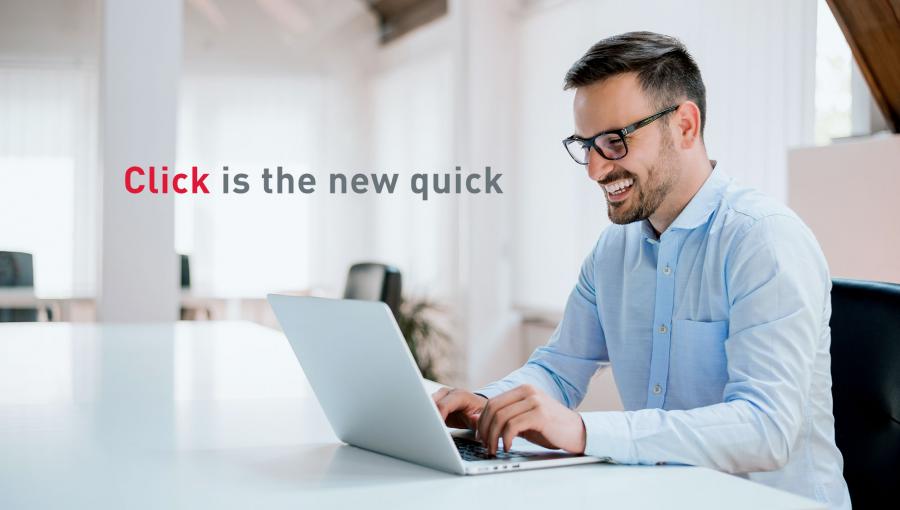 In 2014, ACMA, a leading company in the production of packaging machines for fast moving consumer goods, implemented the first version of its webshop – a portal for managing online quotations and ordering spare parts for their machines in order to meet the operational requirements of its customers around the world.
Over the years, the ACMA webshop has been progressively optimised, implementing the best features of B2C platforms. The company has invested specifically in UX and UI design to make it as easy to use as possible for customers.
This has led to intuitive user interfaces being implemented alongside features that are particularly useful for companies operating in the packaging sector.
From a practical point of view, the ACMA webshop is an extremely fast and efficient tool for managing spare parts orders, accessed simply by entering a User ID and password. The simple platform design allows individual parts to be quickly identified and ordered using just a few keywords. It also allows customers to upload their own Excel file containing all the spare parts required.
In order to facilitate the customer's experience, the platform allows them to associate their own part numbers with ACMA's. It also allows them to keep a record of previous orders to make it even easier to place repeat orders for standard parts.
The evolution of the ACMA webshop
In 2019, ACMA's webshop model was chosen as the basis for implementing the e-commerce portals of other Coesia companies. Additional features were subsequently developed, including adding images to each product data sheet so that all items can be easily identified.
It is also possible, as on standard e-commerce websites, to save and download order details to be refined later, or to place the order directly. Once the order has been processed, the customer receives an email notifying them that it is being shipped. A link to the courier delivery service allows the order to be tracked in real time.
In addition to making it easier for customers to manage their machinery, the tool also generates pop-up notifications to alert users on the state of obsolescence of individual components, indicating those that are due for replacement.
Considering ACMA's diverse customer base, the platform was developed in thirteen different languages, so that each user can personalise their experience to make it as intuitive as possible.
Even though the ACMA platform is highly efficient, it does not preclude personal contact with the company: customers can always contact their Service contact manager for any assistance or clarification that may be required.
Contact our experts if you would like more information about the webshop and make contact with the ACMA universe.
Are you already an ACMA customer but do not have access to the webshop?
Contact your ACMA reference person and request your personal credentials!