ACMA and the packaging of chocolates: the reason behind the feelings
Chocolate is the ultimate sweet delicacy, traditionally linked to moments of joy and celebration. But the moment of unwrapping a chocolate praline is the last of a long journey, in which technology meets precision.
More than just a product, an experience
A market worth more than $110 billion, with a compound growth rate of nearly 4%, including products such as chocolate pralines, bars, eggs, and many more. However, for a fair market evaluation, statistics aren't enough, and this is even more true for the chocolate industry; a product that is consumed everywhere worldwide and traditionally linked to moments of happiness, representing not just food, but a concrete experience. For this reason, around the world there is an increasing focus on quality, resulting in a growing demand for organic, vegan, sugar-free or gluten-free products. In fact, consumers are increasingly questioning the negative effects that preservatives and dyes can have on their health and the environment, favoring the consumption of fully organic or otherwise high-quality chocolate pralines. Sales of these premium products are influenced by the seasonal nature of chocolate, with different brands launching new series of chocolate pralines and other products to coincide with times such as Easter and Christmas. These new product lines typically feature distinctive packaging, shapes, and flavors. 
A competitive industry, where being smart is essential
The chocolate market is increasingly fast-moving, with very diverse products and repeated production peaks throughout the year. This creates a complex scenario for players in the supply chain, which is extremely vast and extends from cocoa farmers to logistics and disposal. The heart of the supply chain, however, is the chocolate production process and its packaging: this is where increasingly advanced technologies come into play, geared toward the pursuit of maximum sustainability. In this regard, ACMA has a unique know-how, having nearly 100 years of experience in packaging machinery design. Today, the company boasts a portfolio of packaging solutions that can cover any need, both in terms of production performance and flexibility, with machines capable of handling different formats and styles, which can work with different packaging materials at the same time, including sustainable ones. ACMA, however, wanted to go further, extending its services and offering customers a range of automated and smart distribution and feeding solutions, specifically suited to handling spherical or flat-based chocolate pralines.
Three systems, multiple applications
There are three of ACMA's "smart handling" systems, designed according to the type of chocolate pralines to be processed, how they need to get to the machine, and the production speed of the line being served. Three different products but with the same aim: analyzing production conditions in real-time and optimizing the feeding process accordingly. The analysis is not only quantitative (e.g., based on counting chocolate pralines) but qualitative as well: the systems are able to evaluate aspects such as product shape and orientation. These operations are repeated hundreds of times per second and require precision and extremely careful handling of the product. Let's look more specifically at these aspects.
The first solution is a smart robotic distribution system that can have multiple applications within different industries depending on the type of product to be handled and the production requirements. One example is the use of this technology in the world of Confectionery with flat-based chocolate pralines, for which there is a choice of two "pick and place" solutions. The single-grip delta robot is able to orient and sort randomly arriving chocolate pralines into rows: the robotic arm picks them up and inserts them correctly oriented into the machine's feeding conveyor thanks to a scanning system that communicates directly with the delta robot.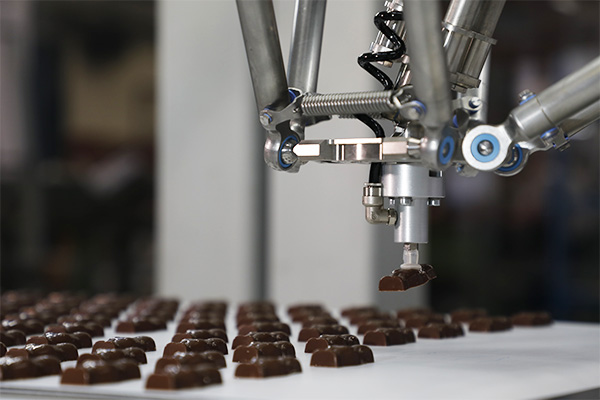 The multi-grip system, on the other hand, picks up products already oriented in rows or from counterplates and quickly inserts them into the infeed conveyor, for a gentle product handling throughout the process.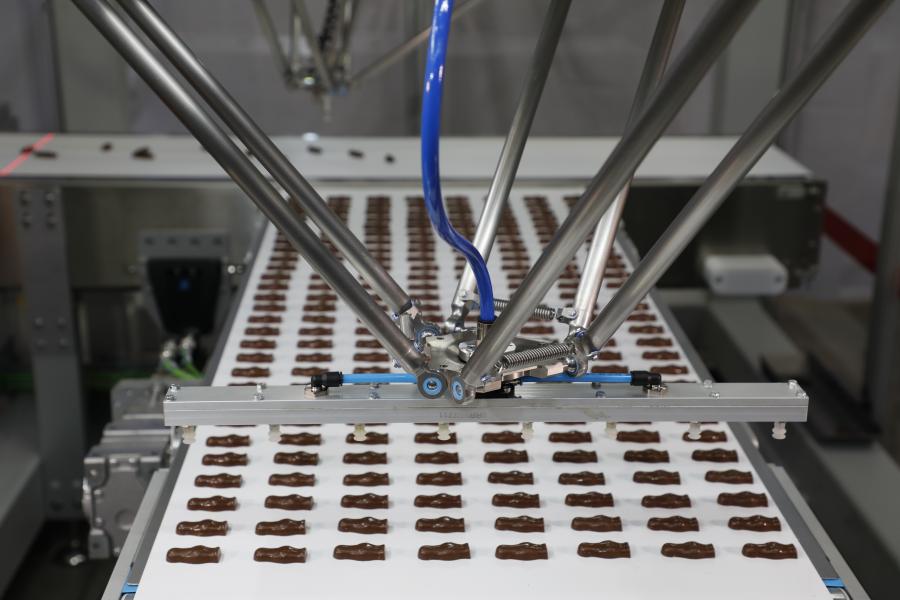 These solutions are characterized by a modular design, capable of handling – gently and precisely – chocolate pralines with shapes that are difficult to handle, such as a heart shape. They are multi-level smart systems, designed with space and energy savings in mind, thanks in part to features such as the integration of the electrical components directly into the machine, without adding additional electrical cabinets, and directly connected to a single HMI for management operations, integrated with Coesia OptiMate and PerforMate digital solutions.
The second, ACMA Carousel, is a feeding system also for flat-based chocolate pralines, designed to be very compact and with low energy consumption compared to solutions on the market today. It includes a vision system that scans incoming chocolate pralines, detecting and discarding defective ones, and operating in sync with a robot in charge of correct product orientation.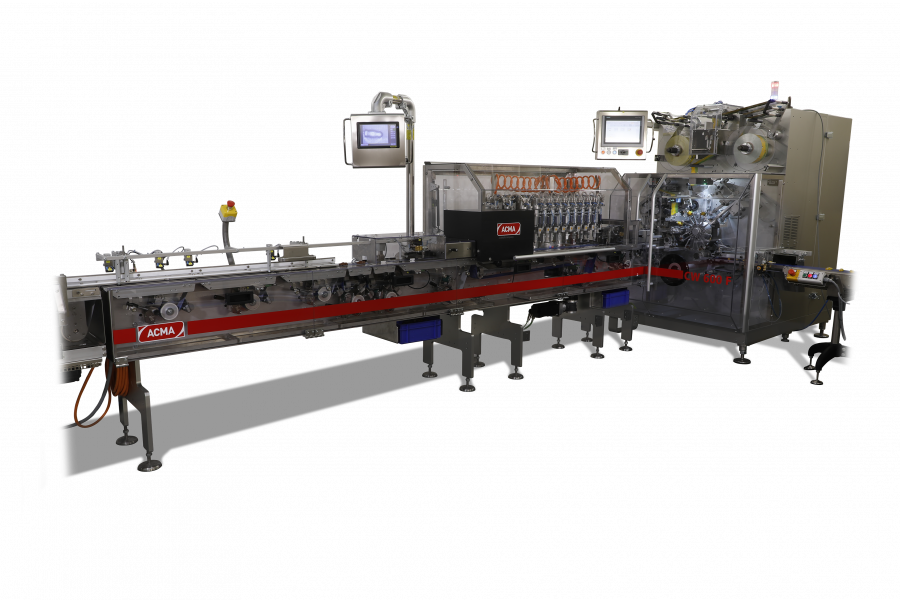 The peculiarity of the system lies in its ability to work with asymmetrical chocolate pralines along an axis to which a bunch-type wrapping style is applied, in which the layout on the reel must match a specific part of the product shape (e.g., a teddy bear or a chick): by evaluating its orientation, when necessary, the system rotates the products 180 degrees, arranging them so that they enter the machine correctly oriented, while ensuring a precise and gentle handling at all times.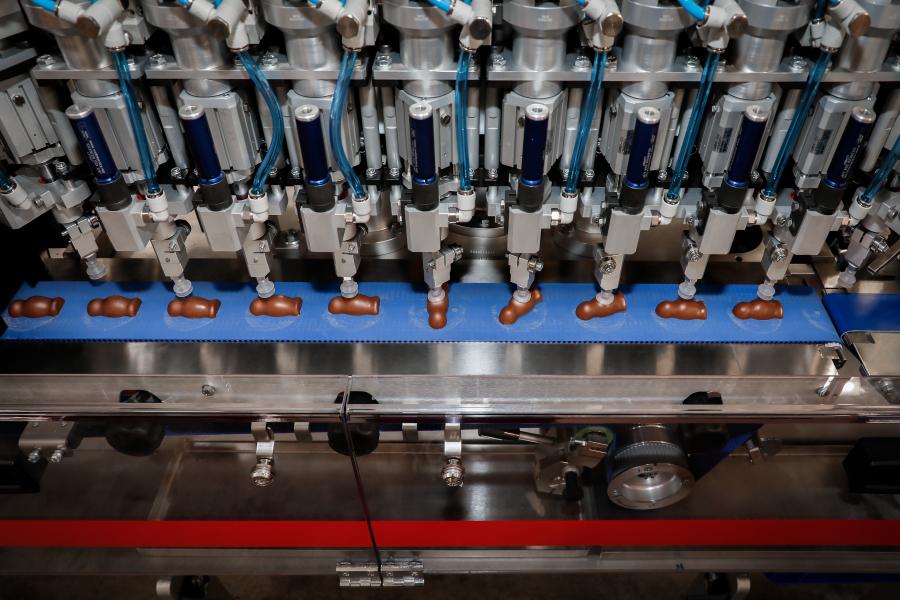 Finally, VL, is the solution designed for spherical products that arrive in the machine from a counter-plate. Developed for the ACMA CW 1005 high-speed packaging machine, it is designed for those who have particularly high production requirements but do not want to compromise on quality. Speed is its main strength, an aspect that is combined with high reliability and, again, a compact system size.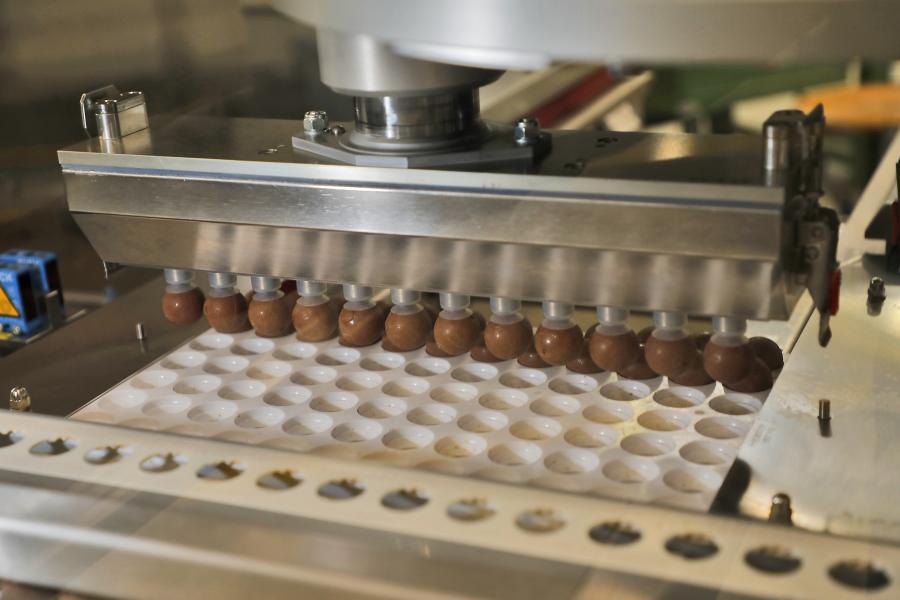 Smart Process Monitoring: The brain behind the muscles
"Process Monitoring" is the name ACMA has given to the product tracking system that operates behind the scenes. Developed in collaboration with the Coesia Engineering Center, Coesia Group's center of engineering excellence, it is based on a vision system set up along the entire line. This works in sync with a specific software integrated with OptiMate on the HMI of the packaging machine and is programmed to track the status of products as they pass through the different production stages, from the various distribution steps to the final packaging. It is a real brain that can oversee and precisely photograph the various moments on the line, keeping track of the entire process and showing what happens to a precise portion of products at the different moments that the customer wants to monitor for effective production performance. This allows immediate detection of possible failures, providing a clear view of any issues directly on the monitor. The end result? A product that is always perfect in both shape and packaging, in the ACMA tradition, and an effective solution that allows to quickly solve any production problem, greatly reducing downtime on the machine or on the entire line.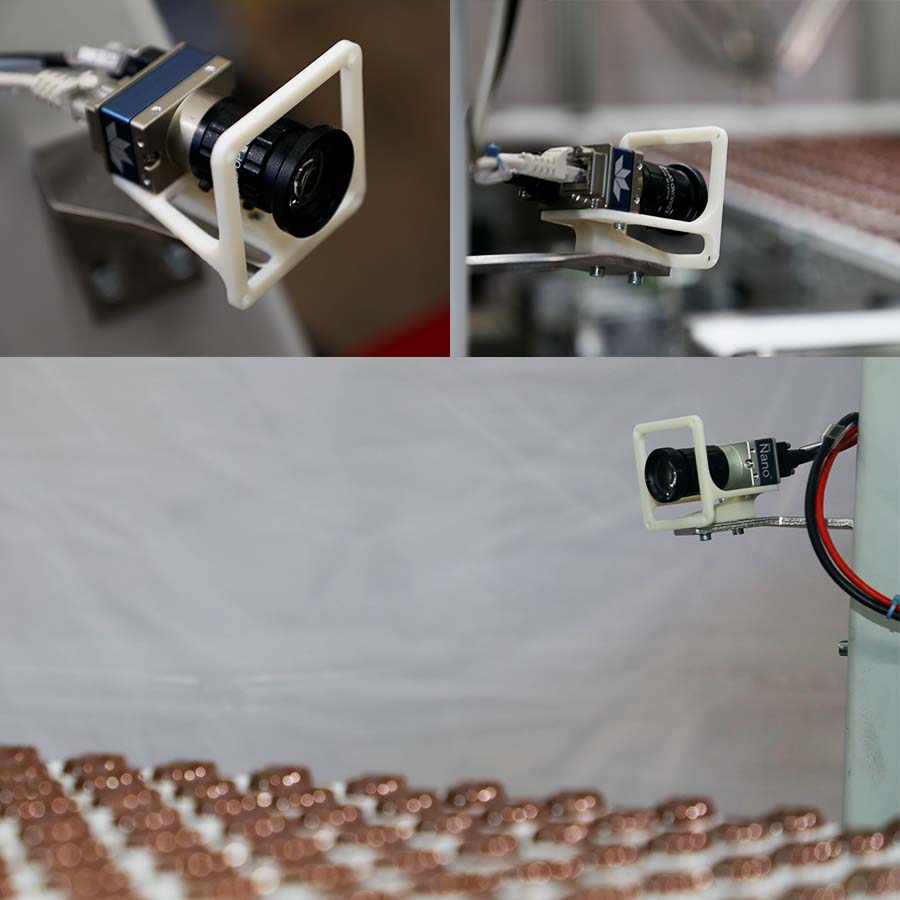 Do you want to discover more about ACMA Smart Handling Solutions for Confectionery? Contact us!